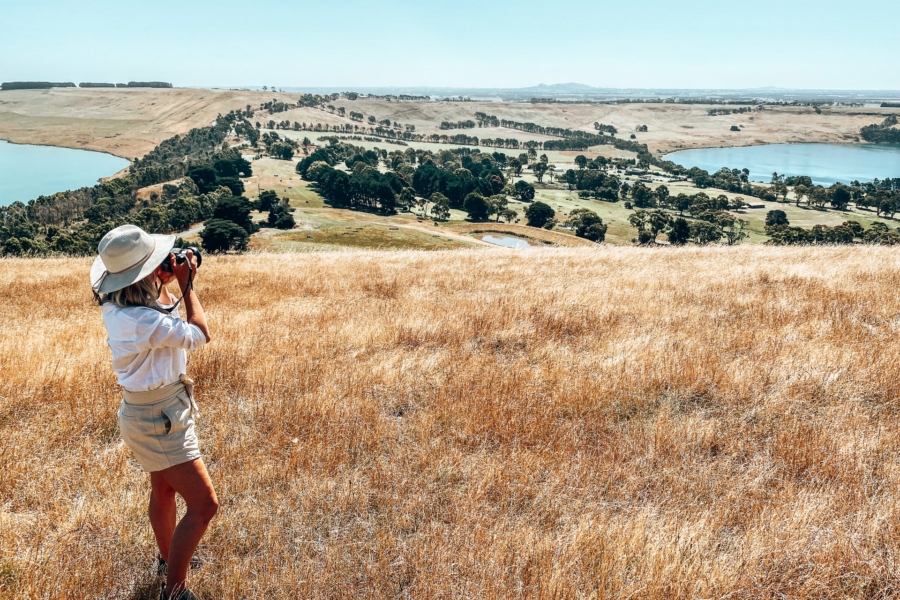 Volcanic Lakes & Plains
Follow meandering roads north from the Great Ocean Road or travel direct via the Princes Hwy to explore sublime volcanic landscapes and charming inland towns. Enjoy the contrast of conical peaks and deep crater lakes that punctuate the even carpet of rolling farmland. Dry stone walls dissect the landscape, providing an aesthetic and practical solution to a landscape strewn with volcanic rock.
Fishing
Emerald winter landscapes, charming historic towns and country hospitality ice the cake for a weekend or week-long fishing adventure. Visit a local bait and tackle supplier for advice on preferential baits, rigs and lures for local conditions.
Talk to a local about their favourite spots and lures and for up to the minute advice you can't go past a chat with a local Caravan Park Manage.
Camperdown to Timboon Rail Trail
A wonderful trail for the whole family. Catch the train to Camperdown and commence your journey.
Riders and walkers traverse volcanic features, farmland, wooded grassland and tall wet forest on a 34 km descent into the wooded Timboon valley. Stop for a break on the way in Cobden (after winding through the golf course.) before heading south through farmland and tall forest to the iconic trestle bridges in the final 15km to Timboon.
A Scottish Love Affair
Camperdown has a strong affiliation with the acclaimed Scottish bard Robert Burns. In fact the oldest surviving statue of the poet is on display in the Corangamite Shire Offices just next door to the Camperdown Courthouse.
The Robert Burns Scottish Festival is a major event held each year to celebrate his life and works. Why not join us and get your kilt on to celebrate? Next year's event will run from May 18th – 20th and will offer an extensive program for the whole family.